So I guess I should start by introducing myself. I'm Colleen, I am 45 (ack, how did THAT happen?) and happily partnered for going on 17 years with my girlfriend Jan. No kids, three dogs, several chickens and a rooster.
Back in 1996 when I wanted to do something artistic but lacked any ability to draw, I found out about rubber stamping. Been doing it off and on ever since.
Last year was decidedly off, for a number of reasons, but I think the main one is a bout of depression. I'm better now, more often having the gray moods in between the blue sky days instead of the opposite. One thing I did for myself after the holiday season at work was take the first week of January off and have a "staycation". I had a long list of things I wanted to do, fun excursion type things and household chore/organization type things, but instead, I dove into cardmaking and really enjoyed it. It has been a fabulous week and I have a bunch of cards to show for it.
One of my New Year's resolutions every year is something like "make art every day" or "do something creative daily". I have often thought of challenging myself to make a card a day for the entire year, just to see if I could do it.
Since this year has started off so promisingly in the "create every day" respect, I am going to go for it. I probably won't make something every day, but I challenge myself to post a (recently created, by me) card here every day. That should at least get me making a batch or two of cards every week, and posting and writing about them daily.
So to start off, here is a card I made today: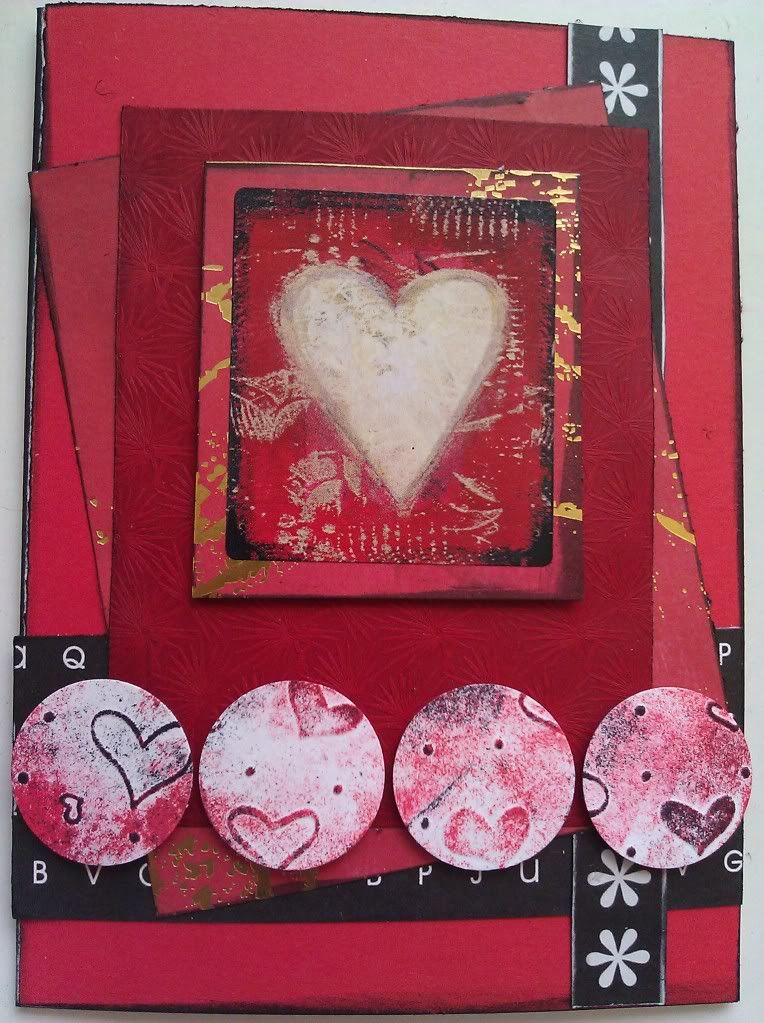 It is based on the
current card sketch challenge for this week
over at
Splitcoaststampers
. Splitcoaststampers is a huge community of papercrafters who post hundreds of photos daily of cards and other items that they have made. I have lurked there for a long time looking at other people's work and am just starting to participate. In fact the cards I post here will be the first ones I've posted there.
So anyway, I call this card a Grunge Valentine. There are actually no stamps used, just a lot of ink! I layered plain red paper onto a premade white card (4.25" x 5.5", which all of my cards will be unless otherwise noted). The black and white pieces of paper came from a Die Cuts with a View paper pad I have had for several years, but I have no idea which one at this point. The red patterned paper is foiled and is a scrap of unknown origin from probably 2007 or 2008 or so. I layered that over the black and white strips, then added a piece of textured red vellum (again, no idea of the origin, I promise to keep better track of these things as I add new supplies!). The main image is a SandyLion sticker and is layered onto more of the red foiled paper, and attached with mounting tape to pop it up a bit.
I tried several different things for the circles and none of them were working out. Finally I tried taking a piece of bright white embossed cardstock and inking it with first red and then dabbed with black Vivid ink pads. This both toned down the brightness of the white paper and helped the colors match the rest of the card. I punched 4 circles out of the inked card and attached them with foam mounting tape as well. And...done. My first Valentine's Day card of 2012!
I was having fun with the sketch, and a set of newly purchased Stampin' Up stamps (Wow Flowers, a retired set bought on Ebay) arrived in the mail this afternoon, so I broke them out immediately and made another card. This time I dug into my paper pile and challenged myself to use some of the "why did I buy this?" papers from clearance sale binges, and also to go for some bling, which is not usually my thing. Here is the result:
It is hard to see but the background paper has glittery dot circles on it. The main image is embossed with black opal powder and the four smaller flowers with detail black powder. And I just realized I took the photo before I added the final touch, which was some Martha Stewart clear rhinestones as the flower centers! So the real thing is a little blingier than this!
Next entry--I'll post my cards for the first six days of the year.